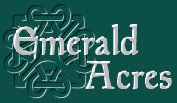 OUR BOYS
We do all health clearances on all our breeding stock.
This includes temperament, hips, eyes (every 12 months), elbows, heart and thyroid.
We will not breed any dog with questionable health.
Am Can Ch Emerald's Man of Your Dreams
Pedigree

Harley is a son of the fabulous, fantastic "Kirby". Harley's AKC championship was the one that made Kirby the Top Producing Golden Retriever sire of all time, surpassing the record that had been set by Ch Misty Morn's Sunset nearly 30 years prior.

Harley favors Kirby, from his classic looks, textbook conformation, and impeccable temperament right on down to his high intelligence, desire to please, and tons of personality.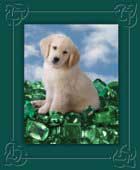 Star Crowned Darwin O'Emerald
Pedigree

Darwin is the sweetest you could ask for. He is not a big male, but within the UKC standard. He loves his family and we couldn't ask for a kinder boy. He only barks when he wants to visit. His movement is stunning, as is his head. He is a very light gold and we can't thank his breeder, Karen Webb of Star Crowned Goldens enough for entrusting us with him. His mother comes from English bloodlines, his father from Australia. OFA Good on hips and elbows, with cardiologist certified heart and eyes certified too, of course. We know his puppies will be spectacular!

Emerald's Dream Of A Beemer
Pedigree

Beemer is a Buzz son out of Bree. He is our up and coming show hopeful! Very sweet and moves like an absolute breeder's dream. It will be lots of fun to raise him to go in the ring since his father is too light to be competitive in the U.S. We love this boy!


Click for Beemers Gallery

Am Ch Emerald's California Dream
Pedigree

Chopper is Harley's litter brother out of Kirby x Lovie. He finished his AKC Championship in March 2005.

With the same wonderful temperament and intelligence as his brother, Chopper is just a little easier going and more laid back. He always has a grin on his face and a wag in his tail, and he and his brother are both a delight to own.


Johnny Bravo Wolchover
(A Chopper son)

Endicott Most Shooting Star
Pedigree

Buzz came from Sweden from a wonderful and conscientious breeder, Ingred Bergenblad of Endicott's Goldens, with many dogs that are multi- titled in her country. Buzz is blessed with a wonderful disposition, very sweet, smart and loving, He is a taller golden and very light, but crosses well with our American dogs and the dispositions of his puppies are fabulous. We couldn't be happier and more pleased that the breeder would trust us with him. His clearances are impeccable. We purchased him to give us an outcross to our girls and open our gene pool here, and we are estatic!

Emerald's Way To Go Johnny
Pedigree

Johnny's mom is a wonderfully moving girl and also OFA EXCELLENT. His father, a Champion. Both his parents have produced a wonderfully sweet and game "big puppy", Johnny. We can't help but laugh when he plays with us He is the cutest!
Emerald Acres
P.O. Box 760, Rosamond, Ca. 93560
Phone: 661-256-3663
Fax: 661-256-7070
petewrk@earthlink.net