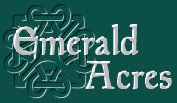 OUR FOUNDATION DOGS
Am Ch Fanfare's On Broadway
Pedigree

Tony is the youngest "old man" you can imagine. He has made two trips to Golden Retriever Nationals, placing Second in the American Bred Class in 1999 and placing Fourth in the Veteran Dog 10-12 years old class in October 2004.

As a producer, Tony has been the genetically "cleanest" dog we have ever owned. His puppies are uniformly problem-free, and out of four different dams he has produced four OFA Excellent offspring, three females and one male. We have retired Tony now, but hope his son, Sport will follow.

Tony lived until 2 weeks shy of 15. Died of old age.


Scoobi
One of Tony's first son's

Windy Schwartz
Sired by Tony at 13

Emerald's A Bit O'Fluff On Broadway


Fluffy has been my baby girl since day one. Her father "Johnny" is at least two generations of OFA excellent. Her mother "Liza" is a "Tony" daughter. It looks like the devotion and lovingness goes back many generations along with longevity. No matter who the father of her puppies is, they should have great coat and stunning looks.

Our wonderful Fluffy is now retired and living in such a marvelous "dog spoiling home" in Lake Arrowhead (LUCKY! Girl) We had a choice of homes for her, but wanted her close because she could always come back here if need be.

Chien D'Or's Emmie O'Emerald
Pedigree
The most beautiful face you could ever find!! Her disposition was equally soft and sweet. We regretfully retired her, but have a daughter coming up that seems to carry the same traits. Everyone LOVED Emmie's puppies!!
Emerald's Amazin' Star Power
Pedigree

What a treasure Star has been. A daughter of Janis, on our website, she is a Buzz daughter, from two OFA Excellent parents and two WONDERFUL disposition parents. What a precious girl and a joy to own.

Emerald's Twinklin' Xmas Bells
Pedigree

What a gift from our favorite breeding for her Mom and Dad (Sparkle and Johnny). She has been a joy to own and sweet and biddable as her name implies. Again, we cannot say enough about this girl and her movement, extreme joy and friendliness. She makes us smile every time we greet her. What a total joy!

Emerald's Sweet Candy Xmas
Pedigree
We cannot tell you how much we loved this girl. She was very manipulative, as are her daughters, but she was the very best girl we could imagine. Oh, my what a sweet girl. We have kept three of her daughters. Lollipop, Goodie and Sparkle. Sparkle is the eldest and we will certainly miss her when SHE retires as she has become most like her mom and the funniest. All the girls have different ways to figure out how to make me do what they want, which is the funniest! We love that trait and know they are very smart because of it!

Golden Days Amazing Strike At O'Emerald
Pedigree

Stryker is a young happy boy that is always game to play and cuddle. His father is one of our favorite champions, going back to the well known Ch. Holiday a Christmas Carol (Dickens). We have enjoyed him alot and are just starting to see what he can produce.

Emerald's Sparkling Xmas Treasure
Pedigree

She is everything we could expect from Candy and Stryker. So far she is MUCHO sweet, has tons of bone and coat, fabulous movement, and we just love her!

RDO's Life is a Cabaret
Pedigree


We are so blessed to be able to offer a Tony (Ch. Fanfare's On Broadway..lived until a few weeks shy of FIFTEEN) daughter in our breeding program. She is very dedicated to us, as was Tony. What a beautiful girl. Much of her looks come from her mom Emmie, one of the prettiest faces we have EVER seen. We have a lot in store for her and can hardly wait to see if she produces as well as her father, who never gave us a hip problem in all the years he was used at breeding. He was one of the genetically cleanest dogs we have had the pleasure of owning.
When pups are here OR when we admit to having bred her: Bred to Stryker for size and color. We know the disposition of both parents just has to be inherited by their babies. This is a breeding we have never done, so are very excited to see the outcome.

Am Ch Masters Emerald's Dream Lover
Pedigree

Born July, 17, 1996, Lovie was purchased as a puppy from Jennifer Masterson of Masters Goldens fame. She is an "Isis" granddaughter and is linebred on the incomparable "Aruba".

Lovie's fluid movement, melt-your-heart feminine looks, and sweet devoted demeanor earned her a fan club during her show career! She managed to break the jinx on our girls to become the first female AKC Champion here at Emerald Acres.

After finishing her AKC championship, Lovie was bred to "Kirby" (Am Can Ch Rush Hill's Haagen-Dazs CDX JH AX OAJ WCX VCX OS SDHF). When their son "Harley" finished his championship, he qualified Kirby to take over the distinction as the Top Producing Golden Retriever of all time, passing the previous record-holder, Ch Misty Morn's Sunset, CD TD WC OS SDHF. That litter has propelled Emerald's Goldens into the new millennium, and having made her mark, Lovie is now enjoying her retirement.


Pedigree

Lucy is a very game dog that is quite easy to live with. She listens well and is a joy. She will chase a toy forever, but settles down very well when asked. She is a medium to dark colored red dog, as was her father "Swinger."

Lucy is the great grand-daughter of the internationally famous Ch. Twin-Beau-D's Peterbuilt, who sired the well known Ch. Faera's Starlight. Her father, Ch Chien D'or'S Mooonlight Dancer, remains very sound to this day, as does Lucy.
We expect this soundness to be passed on to her babies and to serve her quite well into her elderly age.

Lucy is now retired and living with very good friends of our family. We sure miss her, but judging by these pictures, she doesn't seem to be missing much of us! Her new owner is a fabulous photographer!



Pedigree
One of our beautiful Tony daughters!

Emerald's Desperate Dreams
Pedigree

Bree is another wonderful Patsy daughter, certainly as sweet and beautiful as her mom and her 1/2 sister Candy. This line, from the multi-titled and top producing Kirby (Ch. Rush Hill's Hagen Daz), has got to be the kindest, smartest and most flexible line we have ever had the pleasure to own. We hope Bree's puppies gather half the fans that Bree has for her sweet and gentle disposition, in addition to her stunning good looks!
Emerald Acres
P.O. Box 760, Rosamond, Ca. 93560
Phone: 661-256-3663
Fax: 661-256-7070
petewrk@earthlink.net