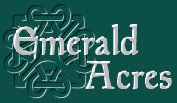 ON OUR ACRES
Despite its lush sound, Emerald Acres is not really all that Emerald .
We are located in the High Desert region of Southern California, where the surroundings are much more brown and gray than green, but the air is clean and the well water is sweet and cold.
Our dogs are raised in this pristine unpolluted environment, in our home, as members of our family. We can not tolerate hyperactivity and aim to produce a calmer sort of dog that is an asset to the home and not agitative.
The Yorkies have their own quarters adjoining our bedroom, and their own exercise yard.
The Goldens enjoy our living and family rooms most and exercise in one of five separate spacious outdoor areas.
All outdoor exercise areas have ample shade and wind protection. All the dogs get lots of attention from our various family members, which range in age from my grade-school-age grandchildren up to my 83 year old uncle.
They are also exposed to our housecats, pet birds, and aquariums which they watch mesmerized like it's doggy TV!


THE NEXT GENERATION
My granddaughter, Aubrey on her favorite Haflinger, Misty Moor. You will also note this is in our "Emerald Acres" high desert terrain. Aubrey is a great help in raising puppies and working with our dogs. Of course, she has her special favorite puppies and mother dogs. I suppose you have guessed by now, our love of animals has spanned many generations.

We welcome your visit here at Emerald Acres.
Emerald Acres
P.O. Box 760, Rosamond, Ca. 93560
Phone: 661-256-3663
Fax: 661-256-7070
petewrk@earthlink.net