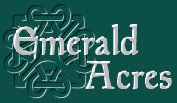 OUR GIRLS
We do all health clearances on all our breeding stock.
This includes temperament, hips, eyes (every 12 months), elbows, heart and thyroid.
We will not breed any dog with questionable health.
Emerald's Sweet Lollipop Candy
Pedigree

Loillipop (Emerald's Sweet Lollipop Candy) is a Candy x Buzz daughter. She is everything her name implies. Darling, loving and very correct with OFA excellent hips, who could ask for more? We were sad to retire her mother, but ecstatic to have her to carry on the genetics and disposition.

Emerald's Luv R Snickers
Pedigree

Snickers is every bit as sweet as her mother, MacKenna. She is truly focused as is her dad, Darwin. We expect great things out of her as she is beautiful and graceful. Larger girl like her mom!

Emerald's Xmas Good 'n Plenty
Pedigree

Goodie is the younger full sister of Lollipop. Her mother of course is also Candy and her father is Buzz. She has more the personality of Candy than Buzz. Loves to get hugs, kisses and snuggles a bit more than most. She produces just a bit darker than Lollipop, but puppies have the same amazing disposition and beauty. She is another one of her Buzz offspring with OFA excellent hips.

MacKenna
Pedigree


Our first Buzz offspring to be bred. We are very excited because not only is she the sweetest girl you could ask for, she has very correct conformation. She is the offspring of Buzz and Bree, probably our favorite mating of all that we have done. All Buzz x Bree puppies are absolutely wonderful.
She is littermate to Beemer. Not only does she have OFA excellent hips, her puppies have been absolutely spectacular.


Reagan- a Stryker X MacKenna boy

Golden Days Amazin' Janice O'Emerald
Pedigree
Janice is very calm and gentle with spectacularly free and effortless movement. We can't say enough about this girl and how lucky we are to have another OFA EXCELLENT golden! We will be excited to see what she produces as she comes from wonderfully sound dogs with the same effortless movement. Otherwise, she is all girl. Very cute and sweet!!

Jack - Surfing USA!

(Janice & Buzz @age 14 mo.)

Maggie Mae Blanchford

(Janice & Buzz @age 2)

Am Ch Masters Emerald's Dream Lover
Pedigree

Born July, 17, 1996, Lovie was purchased as a puppy from Jennifer Masterson of Masters Goldens fame. She is an "Isis" granddaughter and is linebred on the incomparable "Aruba".

Lovie's fluid movement, melt-your-heart feminine looks, and sweet devoted demeanor earned her a fan club during her show career! She managed to break the jinx on our girls to become the first female AKC Champion here at Emerald Acres.

After finishing her AKC championship, Lovie was bred to "Kirby" (Am Can Ch Rush Hill's Haagen-Dazs CDX JH AX OAJ WCX VCX OS SDHF). When their son "Harley" finished his championship, he qualified Kirby to take over the distinction as the Top Producing Golden Retriever of all time, passing the previous record-holder, Ch Misty Morn's Sunset, CD TD WC OS SDHF. That litter has propelled Emerald Goldens into the new millennium, and having made her mark, Lovie is now enjoying her retirement.
Emerald Acres
P.O. Box 760, Rosamond, Ca. 93560
Phone: 661-256-3663
Fax: 661-256-7070
petewrk@earthlink.net